20 insurgents killed as Jihadist attacks rise in Russia's Caucasus
An Islamist insurgency is now spreading beyond Chechyna to the entire patchwork of republics known as the north Caucasus.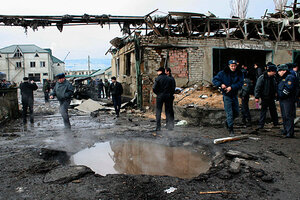 AP/File
One of the biggest thorns in Russia's side since the Soviet Union's collapse has been Chechnya, one of seven republics along its southeastern flank known collectively as the north Caucasus.
After two wars, Moscow has largely tamed Chechnya's separatists with the help of strongman Ramzan Kadyrov, though not without cost. An estimated quarter million people have been killed, and the tiny republic has turned into a totalitarian statelet. Dissenters face kidnapping, torture, and extrajudicial execution, says Alexander Cherkassov of Memorial, Russia's largest independent human rights group.
"Now we are seeing the same methods being applied in Ingushetia and Dagestan," he says.
Fresh unrest
Indeed, as fresh unrest brews in the re­gion – a crazy quilt of ethnic groups who were forced into the Russian Empire – Russia is applying the same method of suppression that put a lid on Chechnya. President Dmit­ry Medvedev has called for the "bandits" to be wiped out, and just today Russian forces said they had killed at least 20 insurgents in the Ingushetia region of the North Caucasus.
But there's one problem: While the Chechnya rebellion was nationalist, this threat has jihadist overtones.
---