After Taliban Baradar arrest, does Bin Laden matter?
Pakistan announced the arrest of the most senior Afghanistan Taliban commander since 2001, Taliban number 2 Mullah Abdul Ghani Baradar. With growing intelligence cooperation between the US and Pakistan, could Osama bin Laden be next?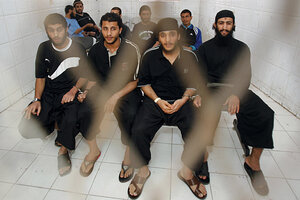 Khaled Abdullah/Reuters
The arrest of Mullah Abdul Ghani Baradar, second within the Afghanistan Taliban only to the group's leader Mullah Omar, near Karachi about ten days ago was the latest sign of growing intelligence cooperation between Pakistan and the United States.
What could this mean for the hunt for Osama bin Laden, who remains America's most wanted man more than eight years after he helped plan the 9/11 attacks on New York and Washington, DC, and is often said to be hiding along the Pakistan-Afghanistan border?
The joint Pakistani and CIA operation to arrest Mr. Baradar was announced Monday, and US and Pakistani officials say his interrogation could yield a trove of useful intelligence in dealing with the core of the Taliban. Baradar acted until recently as the Afghanistan Taliban's military chief of staff and was heavily involved in their war planing. He also ran the Quetta Shura – a sort of ad hoc Taliban leadership council – that is based near the town of Quetta on the Pakistan side of the border.
---