Pakistan seizes Taliban and Al Qaeda cave network
Pakistan's Army declared victory in a weeks-long offensive after it seized control of a Taliban and Al Qaeda cave network that served as a hub in the Bajaur tribal area bordering Afghanistan.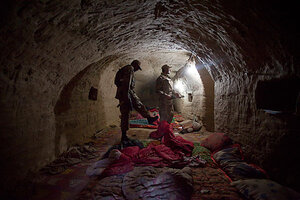 Adrees Latif/Reuters
Pakistani security forces declared victory on Tuesday after a weeks-long offensive in the northwest, retaking control of Bajaur tribal area and seizing a Taliban and Al Qaeda cave network that was a final militant holdout.
More hiding places remain for militants in the vast range of mountainous territory along the Afghan-Pakistani border. But at a press conference held in the rugged mountain village of Damadola, Maj. Gen. Tariq Khan, commander of the paramilitary Frontier Corps, stressed the strategic importance of reclaiming the militant stronghold. "We have concluded operations up to the Afghan border. We think the Bajaur operations have now more or less ended as dedicated military operations," Khan said.
The offensive, launched in late January, follows major efforts to clear the Taliban from nearby South Waziristan tribal area last fall and from the Swat Valley last spring. Troops remain in both areas to conduct snap operations and address one of the key challenges the Army has faced: holding on to territory.
Taliban fighters melted away
Some 75 militants, including Egyptians, Uzbeks, Chechens, and Afghans were killed in the offensive, according to Khan. Another 76 were arrested and 364 forced to surrender. In Damadola, militants had dug 150 caves into the mountain to use as refuge. Military officials showed reporters the caves, which were stocked with blankets and pillows and were apparently abandoned hastily.
Underscoring the difficulty of holding territory, however, the Army also waged an offensive in Bajaur in late 2008, only to have militants reenter the area.
---