Afghanistan war: lessons from the Soviet war
In the Marjah offensive of the Afghanistan war, a reporter hears echoes of the Soviet war.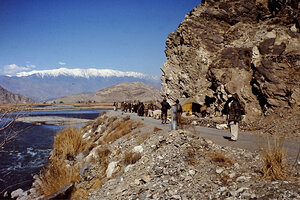 Edward Girardet/file
It was early summer, 1982. The Soviet war in Afghanistan was gathering momentum against the mujahideen, the country's disparate but increasingly widespread resistance movement. I'd just trekked for 10 days across rugged mountains from neighboring Pakistan to the beleaguered Panjshir Valley, an assertive thorn against the Red Army's might barely 40 miles north of Kabul.
I was traveling with a half-dozen mujahideen guerrillas accompanying a French medical team being sent to replace a group of volunteer doctors working clandestinely among the civilian population.
My purpose was to report on the largest Soviet-led offensive against the mujahideen to that date. More than 12,000 Soviet and Afghan troops would attempt to crush 3,000 fighters led by Ahmed Shah Massoud, known as the "Lion of Panjshir" and one of the 20th century's most effective guerrilla commanders.
Last month's NATO-led operation in Marjah in Helmand Province – the largest offensive of the current war – put me in mind of the Panjshir. There are clear lessons from the nearly decade-long Soviet occupation that the international community might heed in its ninth year of war in Afghanistan, with the biggest battle campaign now under way.
---