In rare victory for Afghanistan, cricket team qualifies for ICC World Twenty20
Afghanistan's cricket team, the ultimate underdog, is competing with the world's best at the ICC World Twenty20 opening today in Guyana. Afghanistan faces heavyweight India on Saturday.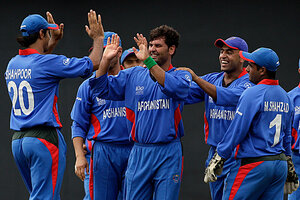 Andres Leighton/AP
Two years ago, Tim Albone began shooting a documentary about what seemed like a charmingly hopeless cause: the Afghan cricket team's attempt to qualify for the cricket World Cup.
No matter that the best cricket facilities in war-torn Afghanistan were barely on a par with the baked earth strips where most of the players had learned the sport in Pakistani refugee camps.
They still haven't made it to the World Cup, but the underdog team is lining up with the world's best at another major international championship: the ICC World Twenty20 in Guyana. The 12-nation tournament opens today, with Afghanistan facing off against heavyweight India on Saturday. The story represents a stark contrast from much of the grim news out of Afghanistan.
"Defies belief"
"To get to the World T20 defies belief," says Mr. Albone, who with two other filmmakers captured the team's odyssey in their documentary "Out of the Ashes." He compares the team's feat to a minor league baseball team winning the World Series. "It is a truly amazing achievement, and one that means so much to Afghans. We hear so much about the war, drugs, and corruption."
---