Pakistani, Ajmal Kasab, found guilty of Mumbai attack
In the 2008 Mumbai attack, Mohammed Ajmal Amir Kasab of Pakistan, was found guilty Monday on 80 charges, including waging war against India, which carries a life sentence or death penalty. Two Indians were charged, but acquitted, of providing logistical support.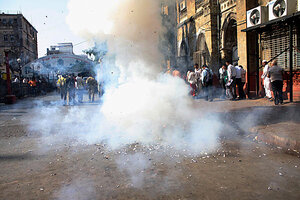 AP
From behind the bombproof barricades of Mumbai's oldest jail, a special court here on Monday convicted Mohammed Ajmal Amir Kasab, the lone surviving Pakistani gunman from the 2008 terrorist attack on Mumbai, on 80 charges including murder, conspiracy, terrorism, and waging war against India.
The verdict ends a year of courtroom drama that had riveted the city, as one defense lawyer after another was replaced and Mr. Kasab at one point offered a detailed confession of the assault.
He said nothing on Monday when the judge pronounced his guilt but sat down again with his head in his hands.
The court will hear arguments for sentencing Tuesday, after which Kasab will be able to appeal. [Editor's note: The original version misstated the date the hearing would begin.]
The judge acquitted two Indians, Faheen Ansari and Sabauddin Sheikh, accused of providing logistical support to the operation.
Dramatic year
During the three-day siege in November 2008, 10 men opened fire with AK-47s on public landmarks and five-star hotels in India's commercial capital, killing 166 people and injuring 234. India accused Pakistani militant group Lashkar-e-Taiba of planning and carrying out the attack.
Kasab was later hauled to Arthur Road Jail, which houses a special court that was fortified with steel and concrete barriers for his custody and trial. Local lawyers first refused to defend him, and two lawyers appointed by the court were later replaced. The Indo-Tibetan Border force was brought in to guard the premises, and a proposed monorail route was diverted from the area.
---