Some Indian villages prefer to put women in power
India's parliament erupted at a proposal last month to reserve one-third of seats for women. But village-level quotas putting women in power have won many supporters.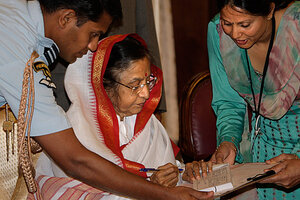 Manish Swarup/AP
India's government caused an uproar in parliament last month when it voted to introduce a new quota system to reserve at least a third of seats in national, state, and local governments for women.
Critics argued that the quota would allow male politicians to promote female relatives to do their bidding, and that it could advance wealthy, upper-caste women at the expense of poorer lower castes.
But its supporters pointed to the success of a similar quota introduced into India's village-level governments – called panchayats – in 1993. Under this system, every five years, more than a million women are voted into one-third of seats reserved for them.
Though academic and anecdotal evidence show that some women serve on panchayats as proxies for their husbands, overall, they also find that the quota is empowering women – and not just women who have come to power – by providing better services and a little female inspiration.
"The power of small but symbolic changes should not be underestimated," says B.S. Baviskar, a senior fellow at the Institute of Social Sciences in Delhi and an expert on panchayats.
Women lag behind
At the highest levels, India has become accustomed to seeing women in power. Years before such a milestone was reached in the West, Indira Gandhi became India's first female prime minister. Her daughter-in-law, Sonia, today heads the Congress party that leads the coalition government. India's president, Pratibha Patil, became the first women to hold this post in 2007.
---