Pakistan floods: Jamaat-ud-Dawa, Islamists linked to India's Mumbai attack, offer aid
As Pakistan floods displace millions, Jamaat-ud-Dawa, a militant Islamist group linked to the 2008 terrorist assault on Mumbai, India, is distributing aid in northwest Pakistan.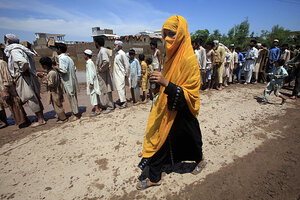 Faisal Mahmood/Reuters
A militant Islamist group linked to the 2008 terrorist assault on Mumbai, India, is openly distributing aid to victims of the floods in northwest Pakistan, according to members of the group.
Jamaat-ud-Dawa, which the United Nations listed as a terrorist front group in the wake of the November 2008 Mumbai attacks, is working across the flood-hit areas, its spokesman told McClatchy. In Charsadda, a town in the northwest that suffered some of the worst flooding, JuD could be seen distributing food and running an ambulance service. The group claims to be involved purely in charity work.
Pakistan's ambivalent attitude toward violent Islamist groups, including the Afghan Taliban, has alarmed Washington and other Western allies. Last week British Prime Minister David Cameron accused Pakistan of promoting the "export of terror."
Concern centers on groups such as Jamaat-ud-Dawa, widely thought to be a front for extremist organization Lashkar-e-Taiba, which has links to Al Qaeda and is now said by US officials to have global ambitions. More than 160 people were killed when a group of Lashkar-e-Taiba gunmen attacked Mumbai.
With the government overwhelmed by the scale of the disaster and accused of a slow response to the worst flooding in Pakistan in at least 80 years, a gap opened that the country's well-organized Islamic groups, mainstream and extremist, are filling.
---