Allahabad High Court issues Ayodhya verdict, dividing religious site
The Allahabad High Court in India today announced the Ayodhya verdict, dividing a religious site disputed between Muslims and Hindus.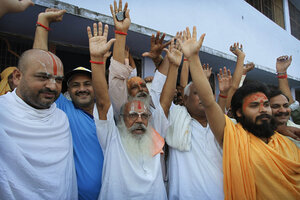 Rajesh Kumar Singh/AP Photo
An Indian court ordered the division of a patch of land in Ayodhya at the center of an ugly dispute between Muslims and Hindus, with a majority share going to Hindus.
Indians were glued to their televisions Thursday afternoon as a team of three judges at the Allahabad High Court ruled that one-third of the site would be held by a Muslim organization, with the remainder divided between two Hindu groups.
For more than a century members of the two faiths have fought over the site in the northern state of Uttar Pradesh. In 1992 a Hindu mob tore down the 16th century Babri Mosque there with pickaxes and their bare hands. Ensuing riots killed more than 2,000 people, mostly Muslim.
Despite fears that a verdict – of any kind – would unleash fresh communal violence, the region was calm in its aftermath.
"With the site being divided I don't think there will be any big trouble in Uttar Pradesh," says Sharat Prathan, a journalist in the state capital, Lucknow. "Indian people are so secular I don't think they will mind if there is a mosque and a temple near to each other."
The case has been something of a test of modern India's ability to ease sectarian tensions in a country that has experienced stunning economic growth since 1992. An improving economic environment has corresponded with a decline in the political fortunes of the chauvinistic Hindu Bharatiya Janata Party (BJP). A government inquiry last November determined that senior BJP members were complicit in the 1992 attack.
Hindutva fades
The party rose to prominence on the back of its antipathy for the mosque at Ayodyha and its promotion of Hindutva (literally "Hinduness") increasing its number of seats from two in 1884 to 120 in 1991. In 1998 it came to power for the first time as head of a coalition government.
---