In sign of goodwill, India cheers wildly for Pakistan at Commonwealth Games
India's spontaneous cheers for Pakistan players at the Commonwealth Games has some wondering if the two countries' relationship is entering a less testy phase.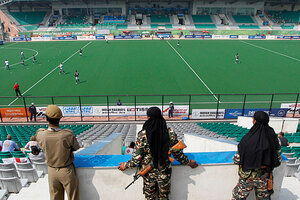 Eranga Jayawardena/AP
When teams entered the Commonwealth Games opening ceremony Sunday in New Delhi, the biggest cheer of the night – after India – was reserved for Pakistan.
As sustained applause rang out across the stadium, with much of the 50,000-strong audience on their feet, at least a few spectators on both sides of the border wondered: Could this be a sign that it's time to end the conflict that has plagued relations since the birth of both countries, for once and for all?
"It was a spontaneous cheer that no one expected, and shows that a bond exists," says Suhasini Haidar, anchor and deputy foreign editor with India's CNN subsidiary, CNN-IBN.
IN PICTURES: Commonwealth Games 2010
Doubling up on diplomacy
---