Kyrgyzstan elections signal unease with parliamentary rule
Weekend Kyrgyzstan elections came off smoothly and fairly. But they also demonstrate popular unease with reforms designed to prevent a return to one-man rule.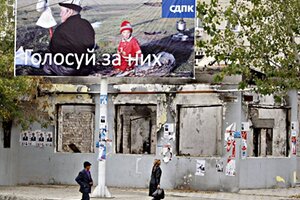 Vasily Fedosenko/Reuters
Despite predictions of disruption and fraud, weekend elections in Kyrgyzstan for the first genuine parliament ever to sprout in the turbulent political soil of Central Asia were peaceful and, most reports say, clean.
International observers praised Kyrgyzstan's polls as a mostly free and fair exercise that could go far toward erasing the little post-Soviet country's grim reputation for repetitive cycles of authoritarian rule punctuated by violent street revolts.
A new constitution, adopted by national referendum in June, stipulates that the legislature, which reflects Kyrgyzstan's ethnic and regional diversity, will set policy and determine the composition of government.
But for those hoping the polls might bring stability to Kyrgyzstan, the ominous news is that three of the five parties which managed to vault the 5 percent barrier for winning representation in the new 120-seat parliament are opposed to the new constitution and have pledged to work for restoration of a "presidential" system of strong, one man rule.
"This is the first time that we have had such transparent and objective elections, with a truly unpredictable outcome like this," says Mars Sariyev, an analyst with the independent Institute of Social Policy in Bishkek. "But the outcome is a shock. No one expected an opposition party to take the lead, least of all our authorities. But this is democracy, and we'll have to work with the results."
---