Indonesia's Merapi volcano erupts again and threatens more
Indonesia's Mt. Merapi erupted again on Friday. Officials say most, but not all, of the danger is past.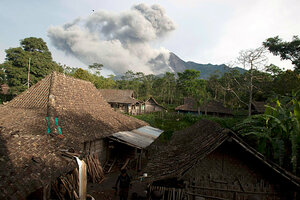 Dwi Oblo/Reuters
Rains dampened relief efforts around Indonesia's Mt. Merapi, as it erupted for a third time Friday. The country's most active volcano has been spewing hot ash and debris since Tuesday, killing at least 34 people and displacing around 50,000.
Friday morning's blast was mostly hot clouds and smoke, but it signaled that the volcano's wrath was not over. Surono, the head of Indonesia's Volcanology and Geological Disaster Mitigation Agency, says a lot of the pressure inside the volcano has been relieved by the blast but there's still cause for concern.
"The energy is different. It is still three times greater than before 2006," he says, referring to Merapi's last eruption. Surono says he doesn't think there will be another massive explosion like the one Tuesday, but authorities are warning refugees to remain in temporary shelters.
More than 40,000 people had fled or been evacuated earlier in the week. But many stayed behind, or returned as the volcano became calmer, to care for the livestock on which their livelihoods depend.
Spiritual connection to Merapi
The 11,000 people who live on Merapi's fertile slopes are mostly traditional farmers. Merapi means Mountain of Fire, and many have deep spiritual ties to the volcano. They believe its activity is caused by spirits, and rely on a respected elder to intercede with the spirts as the mountain's gatekeeper. Mbah Maridjan, Merapi's longtime gatekeeper, was killed along with about 30 others in Merapis initial explosion this week. A new one will be appointed by the Sultan of Yogykarta.
---