North, South Korea trade gunfire across tense border
South Korea says that North Korean forces 'launched the first shots' in an exchange of gunfire in a remote region. The flare-up comes just before a reunion of families divided by the Korean War.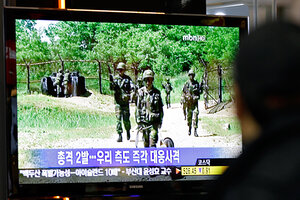 Lee Jin-man/AP
North and South Korean troops exchanged gunfire Friday evening in a remote mountain region about 70 miles northeast of Seoul, South Korean defense officials reported.
South Korea's joint chiefs of staff charged North Korean forces with "launching the first shots" at a South Korean guard post just below the demilitarized zone (DMZ) that has divided the Korean peninsula since the end of the Korean War in July 1953.
A South Korean defense official said South Korean soldiers had fired three shots back across the DMZ "under the rules of engagement."
The shootout was the first such flare-up on land in two years, but North and South Korean warships clashed in the west or Yellow Sea on several occasions before the South Korean Cheonan warship was torpedoed in March.
There was "no damage from the North Korean shots," said the official in a statement to the South Korean media, and it was not even certain if North Korean soldiers were deliberately aiming at the guard post.
He said the United Nations Command, a US-led organization that dates from the Korean War, in overall authority over South Korean troops as well as the 27,500 American troops still in Korea, would investigate "to determine whether North Korea had violated terms of the armistice."
Tensions run high
---