In Pakistan, militant attacks on Sufi shrines on the rise
Al-Qaeda-linked militants are stepping up their attacks on Sufi shrines, possibly as part of an effort to impose a more fundamentalist Islamic practice on the country.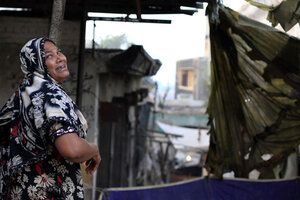 Faisal Mahmood/Reuters
Shrines in Pakistan are spectacles of devotional singing and dancing, colorful garlands, and decorative tokens of vows to Sufi saints, often festive spots for families to gather and devotees to perform. But under increasing threat by Al Qaeda-linked militants, they have also become danger zones.
More than 70 suicide attacks at shrines have killed hundreds of worshipers in Pakistan since 2005, but the attacks have escalated recently, and the revelry has been increasingly replaced by metal detectors, paramilitary troops, and shrapnel.
In October alone, the Pakistani Taliban were believed to have been behind the deaths of some 17 pilgrims and the injuring of 100 more in separate bombings in two cities.
The motivation for these attacks might get lost in international headlines, but they are an indication of the brewing cultural war for the direction of Islam in Pakistan.
From Iraq to Pakistan
That war has crossed borders. Attacks by militants on Shiite shrines in Iraq, it is believed, began as a way to exploit Shiite Sunni sectarianism. Since then, shrine attacks have been used in Pakistan by Al Qaeda-linked militants to edge out both moderate Sunnis and devout Shiites and push a militant-approved version of Islam on Pakistan, say analysts.
---