On Day 1 of India visit, Obama showcases trade deals with US firms
President Obama visited Mumbai, India, Saturday and made a forceful case for free trade. He announced deals totaling nearly $10 billion in new US exports that are expected to create 50,000 new jobs.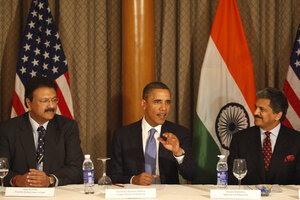 Rafiq Maqbool/AP
President Obama made a forceful case for free trade on the first day of his state visit to India, showcasing how trade with India can create US jobs.

He brought with him hundreds of US executives who finalized deals on the sidelines of the trip totaling nearly $10 billion in new US exports. The payoff for Mr. Obama's argument: 50,000 new American jobs.

'In our interconnected world, increased commerce between the United States and India can be and will be a win-win proposition for both nations,' he said at a business summit in Mumbai. Noting that the US exports less to India than to the Netherlands – a country with fewer people than Mumbai – he said, "we can do better than that."

The ability to announce new jobs helped offset the politically risky proposition of appearing in a room full of outsourcing executives. Persistently high unemployment has heightened public skepticism about trade liberalization, particularly the shift of jobs to countries with lower labor costs like India.

"I think the fact that the president is here with us is quite historic," said Jeffrey Immelt, the CEO of General Electric. "You have to realize that if globalization was put up to a vote in the United States, it would lose."
---