Pakistani papers duped by bogus WikiLeaks cables
Pakistani newspapers carried stunning claims yesterday about India, the country's long-time foe, wrongly sourced to the WikiLeaks data dump.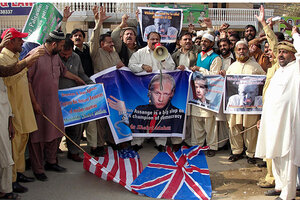 Khalid Tanveer/AP
Pakistani newspapers carried a series of scoops yesterday sourced to the WikiLeaks document dump of US diplomatic correspondence that would seem to have contained all that an India-hater – no shortage of those in Pakistan – could hope for.
One US diplomat is alleged to have determined India was carrying out "genocide" in Kashmir and called in his cable for the US to cut off military exercises with India – an important part of the two countries' deepening strategic relationship – as a sign of displeasure. Another cable is said to have a US diplomat reporting that senior Indian generals are working with Hindu extremists to carry out terror attacks against Muslims living both in India and Pakistan.
A third implies that a Pakistani policeman who was planning to blow the whistle on a senior officer's involvement with Hindu militants was assassinated as a consequence. Yet more contained US praise for the head of Pakistan's Inter-Services Intelligence – an organization that many US officials believe supports Taliban attacks on US troops in Afghanistan – and over-the-top criticisms of senior Indian officers as vain incompetents.
There was only one problem. The cables don't exist, according to Britain's Guardian newspaper, one of a handful of news agencies that has access to the whole WikiLeaks dump of more than 250,000 State Department cables.
---