In trip to India, Chinese Premier Wen Jiabao takes cues from Obama
Like Obama on his November trip to India, Chinese Premier Wen Jiabao is traveling with hundreds of executives and has business deals at the top of his agenda.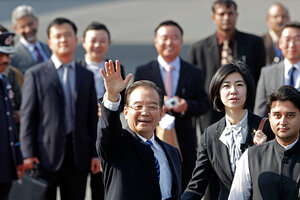 Gurinder Osan/AP
President Obama has serious influence as a globetrotter: Since his trip to India, he's been followed to New Delhi by France's Nicolas Sarkozy and now Chinese Premier Wen Jiabao.
Mr. Wen, who arrived in India Wednesday afternoon, is even mimicking Mr. Obama's entourage by bringing with him hundreds of business executives. It remains to be seen if he can best Obama's souvenirs of business deals worth $10 billion and 50,000 jobs. But Wen will certainly go home with more than a T-shirt.
While China is putting business deals front and center with India, the two largest countries on earth have major strains to hash out behind closed doors. Obama's earlier visit put China on notice that its recent assertiveness over disputed territory has galvanized neighbors like India to deepen ties with the United States as geopolitical insurance.
---