US consulate employee kills two in Pakistan: What we know
The US is claiming diplomatic immunity for Raymond Davis, who shot two Pakistanis last week during an apparent robbery. That could make it harder for the weak civilian government to promote US-backed policies, analysts here warn.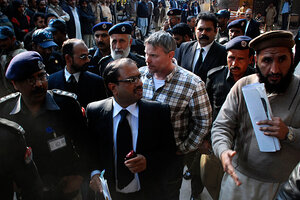 Tariq Saeed/Reuters
If the American consular employee who shot dead two Pakistanis last Thursday gets immunity, it could make it harder for Pakistan's weak civilian government to sell closer cooperation with America on its battle against militants to the Pakistani people, analysts here warn.
"If he actually walks away, people will demand answers. The ability of the government to sell US-backed policies to the people will become eroded," says Ejaz Haider, a columnist in Pakistan.
Much is still unclear surrounding the shooting and the next steps. Here's what is known and what it could mean:
What exactly happened?
A US consulate employee shot dead two Pakistanis on a motorcycle from his car last Thursday in a crowed part of the city. A third man was later killed in a hit and run when a US consulate car, reportedly sped down the wrong side of the road on its way to aid the American. The US employee reportedly told Pakistan police that he was acting in self-defense and that the men, who were armed, had tried to rob him after taking out money from an ATM.
The US consulate employee remains in Pakistani custody. He is charged with two counts of murder and of possessing an illegal firearm.
Who is the US consulate employee?
While US authorities have refrained from naming the employee, or expounding on his role in the Lahore consulate, Pakistani police say he identified himself to them as Raymond Davis, a "technical adviser" to the US government.
---