Kabul airport shooting raises questions about readiness, loyalty of Afghan soldiers
A Kabul pilot with 20 years' experience in the Afghan military killed eight soldiers and one foreign contractor. It's the most recent in an new spate of such attacks.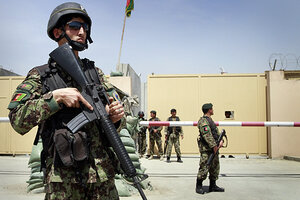 Musadeq Sadeq/AP
An Afghan Air Force officer murdered eight foreign soldiers from NATO and one foreign contractor on the military side of the Kabul airport on Wednesday afternoon.
The attack in the heart of Kabul and in a heavily guarded based filled with soldiers from the US and other NATO allies is bound to raise questions about the US-led war effort, following a brazen escape of hundreds Taliban prisoners in Kandahar earlier this week and growing signs that average Afghans are chafing against a foreign military presence that's almost 10 years old.
The US relationship with Afghan President Hamid Karzai, who America helped install in power, is rocky and there are indications that Afghan security forces, slated to take control of some parts of this country this summer, are not prepared.
On Monday, the oversight body for US spending in Afghanistan said the Afghan ministry of interior doesn't know how many police are in its employ and that there are indications that the ministry pays salaries to Afghans who don't work. The international community has spent about $1.3 billion on the Afghan National Police since 2002.
---