Anti-Americanism pulses through Pakistani town where Osama bin Laden was killed
After Osama bin Laden's death in Abbottabad, anti-American feelings in this garrison town are running high, partly because of a strong sense that Pakistan's sovereignty has been violated.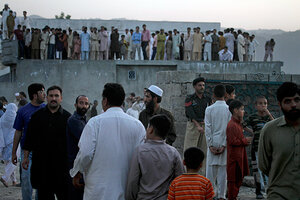 Anjum Naveed/AP
Residents in the area surrounding the compound where Osama bin Laden was killed in Abbottabad, say Pakistani security officials only arrived on the scene after Sunday's night's fighting had ended and did not know what had happened or where it happened.
"The patrol cars arrived 20 minutes after the firefight. They asked people where the explosions had happened," says Muhammad Sadiq, a young Islamic teacher at the local mosque. "The Pakistan Army is based here, why weren't they trusted to arrest him?" he adds.
The details appear to confirm US officials' accounts that Pakistani authorities were neither involved in nor briefed on the US operation to capture the Al Qaeda leader. That realization is bolstering the sense here that Pakistan's sovereignty has been violated, and anti-American passions are now pulsing through this garrison town.
"The Pakistani Army had no idea what was going on. They charged in without a clue," says a construction worker who spoke on condition of anonymity. "For the Americans to come here and take people away from our area is a big insult to us. If I had been there I would have killed the Americans myself."
Why locals didn't know bin Laden was there
---
Follow Stories Like This
Get the Monitor stories you care about delivered to your inbox.