How M.F. Husain, the 'Picasso of India,' tested free expression
M.F. Husain went into self-imposed exile after threats by Hindus offended by his work. The modernist painter's work prompted hundreds of lawsuits.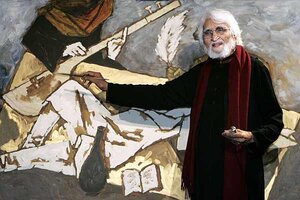 Lefteris Pitarakis/AP/File
One of India's most famous painters, M.F. Husain, passed away Thursday in London in self-imposed exile, having left India after intimidation by Hindu groups offended by his work. His art and exile highlight recent challenges to freedom of expression that worry democracy activists here.
The 95-year-old modernist painter has been called the "Picasso of India," and his work has showed alongside the Spanish master's in the past.
"Husain loves to work in an epic scale, with strong lines and vigorous brushwork, using bright colors," says Rajeev Lochan, the director of the Museum of Modern Art in Delhi. "Husain never ceased to project the essential dignity of the human figure."
But not everyone agreed. The Hindu Janajagruti Samiti, a group whose goals include stopping the "denigration of Hindu righteousness," protested his nude depictions of various Hindu deities. They also objected to one painting showing the borders of India formed by a nude woman's outline.
Husain, a Muslim, faced a flood of lawsuits for "promoting enmity between groups." Courts dismissed the initial cases, but Hindu activists have since filed some 900 cases against Husain around the country, says Geeta Seshu, head of the Free Speech Hub in Mumbai.
---