Report of CIA informant arrests another blow to Pakistan's military
Already beset by unprecedented criticism, Pakistan's military now tries to head off reports that an Army major was arrested for informing the CIA of activities on the bin Laden compound.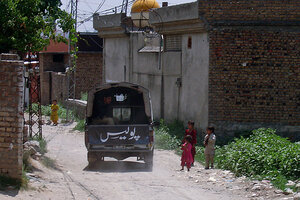 Aqeel Ahmed/AP
A report alleging that a Pakistani Army major was among five CIA informers arrested for gathering intelligence on Osama bin Laden's compound could further harm the Army's image, which is facing a rising backlash at home.
"If a serving officer was reporting to the CIA instead of his own officers, that would be a great breach of discipline," says security analyst and retired Gen. Talat Masood.
According to the New York Times, an Army major provided information such as license plate numbers of vehicles entering the bin Laden compound in Abbottabad prior to the raid. The Army tersely refuted the report on Wednesday, stating: "There is no army officer detained and the story is false and totally baseless" in a press release.
But that statement could mean that the officer in question was retired, says Masood. An Abbottabad resident who asked to remain unnamed because of the sensitivity of the situation told the Monitor that four civilians and one retired Army major were arrested.
A Pakistani newspaper editor who also asked to remain unnamed told the Monitor that a senior civil administrator from Abbottabad also confirmed the arrests and said they took place in a house owned by an Army major.
Unprecedented criticism amid a series of setbacks
The reported arrests are the latest in a series of major setbacks to the Army's public image, which have brought about calls for greater civilian oversight over military and intelligence affairs.
These began in early May following the bin Laden affair, which raised questions over the intelligence failure and the Army's ability to protect its sovereignty, and is being investigated by a parliamentary commission.
---