Afghanistan's future murkier as Karzai disavows third term
Afghanistan's President Hamid Karzai announced yesterday he would not run in 2014 elections. Meanwhile, Taliban peace talks aimed at a final political settlement have reportedly stalled.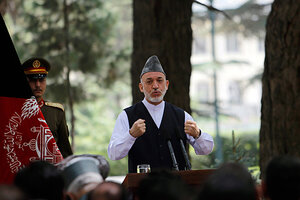 Omar Sobhani/Reuters
The shape of Afghanistan's future remains murkier than ever this week after an announcement by President Hamid Karzai that he would not run for reelection and a report claiming the Taliban peace talks have stalled.
Mr. Karzai told lawmakers Thursday that "the constitution of Afghanistan does not allow anyone to run for the presidency for more than two terms" and so he "will not try to run for the presidency for the third time," according to a statement from his office. Political rivals have long suspected that Karzai would try to engineer an illegal third term, which would spark further instability.
Many Afghans are unlikely, however, to be convinced by this pledge. Karzai has a habit of stepping back from dramatic pronouncements. And this one involves an election light years away in Afghan political time.
"Those who are suspicious of him and what he's trying to do won't necessarily be reassured by a statement three years before the election," says Martine van Bijlert, codirector of the Afghanistan Analysts Network in Kabul. She says it might rather be a goodwill gesture to the incoming US ambassador after a long era of US-Afghan tensions.
---