6.9 magnitude quake 'a wake-up call' to Nepal (video)
A magnitude-6.9 earthquake left 50 dead in Nepal, India, and Tibet. The slow response to the quake in Nepal puts a spotlight on a dismal disaster preparedness record.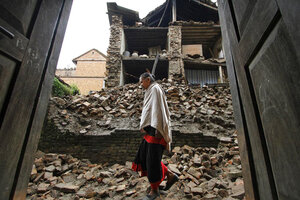 Niranjan Shrestha/AP
A magnitude-6.9 earthquake rattled most of Nepal Sunday, leaving at least six dead and some 24 seriously injured. The slow response to the quake puts a spotlight on Nepal's dismal disaster preparedness record, despite a history of devastating earthquakes.
In Nepal, where seismologists have been warning that the region is due for "the big one," people were relieved to read media reports that described the quake's impact as relatively mild. The quake, centered in the Indian state of Sikkim, killed more than 50 people across India, Nepal, and Tibet.
"There is scant preparedness for a major quake," says Suraj Shrestha, a civil engineer associated with National Society for Earthquake Technology – Nepal (NSET), a nongovernmental organization that seeks to build earthquake-safe communities in Nepal by 2020.
Nepal was fortunate because the epicenter was located far enough from major Nepalese cities to prevent more serious damage, Mr. Shrestha says.
Most of the country has been too busy focusing on how to respond to the Maoist insurgency that gripped the country for a decade until 2006. The country has yet to secure long-term peace.
The last time a major quake hit Nepal was in 1988. The magnitude-6.5 quake that hit the country then killed 721 people. Before that, the biggest recorded quake to strike the region was a magnitude-8.3 in 1934 that killed some 8,519 people, according to the government's National Seismological Center.
---