Afghanistan: NATO's night raids cause more harm than good, report says
A dramatic rise in the number of NATO's night raids in Afghanistan, aimed at capturing insurgents, is souring relations with the Afghan people, according to the new report.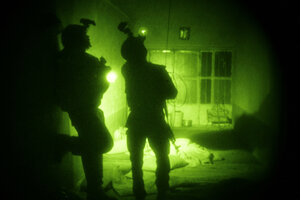 Maya Alleruzzo/AP/File
Over the past year, US and NATO forces say they have made considerable progress against the Afghan insurgency through the use of night raids. But a new study suggests that the long-controversial nighttime operations are doing more harm than good.
Despite a sharp rise in the number of night raids, there have been no benefits in the form of decreased insurgent attacks, and anger over the operations has continued to mount among Afghan civilians, found the report by the Open Society Foundations and The Liaison Office, a research and analysis group in Kabul.
"The dramatic increase in the number of night raids, and evidence that night raids or other operations may be more broadly targeting civilians to gather information and intelligence, appear to have overwhelmed Afghan tolerance of the practice," wrote the authors of the report. "Afghan attitudes toward night raids are as hostile as ever, if not more so."
International forces rely heavily on night raids to capture or kill high-level insurgents. Night raids are a critical component of NATO's strategy here, but a growing number of Afghans, including President Hamid Karzai, have condemned the raids as disrespectful to Afghan culture, and say they undermine the authority of the government and security forces.
---