What's next for India's Communist Party?
The distrust of the Communist Party, once a powerhouse in parts of India, could signal a major change in Indian politics. Here's what its leaders plan to do to keep their old mission alive.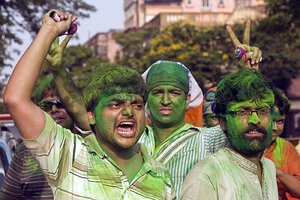 Xinhua/Photoshot/Newscom/File
For years, the hammer and sickle – a symbol of more than three decades of Communist Party rule in the Indian state of West Bengal – has flown proudly over the state capital of Calcutta. Across this crumbling metropolis of 14 million, red communist flags hang limply from lampposts and hand-painted murals cover the sides of colonial-era buildings. A statue of Lenin stands at the edge of a famous park, gazing with furrowed brow over a traffic-choked intersection.
But after 34 years in power – the world's longest tenure by an elected Communist Party – the red sun may be finally setting in West Bengal, signaling a major shift not just for the Indian state but for other parts of India where communist parties have been historically powerful. At state elections in May, the left suffered a landslide defeat and the familiar communist iconography has been slowly pushed aside by the Trinamool Congress's green and orange insignia. Experts chalk the defeat up to corruption, complacency, and shortsighted economic policies.
"A question mark hangs over the future of the Indian left," says Calcutta-based journalist Ashis Biswas.
The communists came to power in West Bengal in 1977 on the back of strong support from industrial workers and the rural poor. They are now struggling to come to grips with the magnitude of the elections in May, which have upended the political order, slashing the representation of the Communist Party of India (Marxist), known as the CPI(M), in the 294-seat state assembly from 233 seats to just 62.
---