Pakistan's military and legislators plan peace talks with Taliban
In the midst of bad and worsening relations with Washington, Pakistan considers new round of peace talks with Pakistan-based Taliban, arguing that 'military solutions' are making things worse.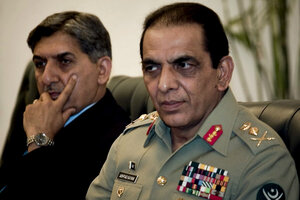 Anjum Naveed/AP/File
After a rare gathering of top military officials and the heads of more than 50 political and religious parties, Pakistan's government has announced that it would negotiate with the militants in the tribal belt along Afghan border rather than dealing with them militarily. The decision marks a significant shift in Pakistan's tactics since the war on terror began after Sept. 11, 2001, and it comes at a time of tense public relations between Pakistan and the United States.
"Pakistan must initiate dialogue with a view to negotiating peace with our own people in the tribal areas," reads a statement issued after the Sept. 29 meeting in Islamabad. "…There has to be a new direction and policy with a focus on peace and reconciliation. 'Give peace a chance' must be the guiding central principle henceforth," reads the statement.
The ten-hour meeting – called an all-parties conference – was held in the wake of a steady decline in relations between Washington and its frontline ally, Pakistan, following the killing of Osama Bin Laden by US special forces on Pakistani soil in May 2011, and after last week's direct assault on the US Embassy in Kabul by a Pakistan-based militant group, the Haqqani network.
---