Pressuring Pakistan, Afghanistan's Karzai signs deal with India
Afghanistan signed a strategic partnership with India today that allows arms transfers and military training in India. The move puts pressure on Pakistan to rein in militants.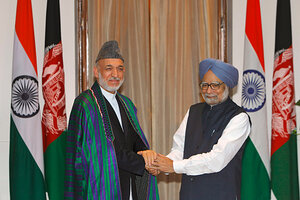 Gurinder Osan/AP
Afghanistan signed a new key strategic partnership with India today in a move that puts pressure on Pakistan to rein in Afghan insurgents and negotiate a peace settlement.
President Hamid Karzai arrived in India to ink the deal after indicating he was losing faith in his olive branches to Pakistan.
The strategic partnership, the first such official deal between the two countries, allows arms transfers and formalizes the ability for Afghanistan to seek Indian military training. A small number of Afghan officers already come to train here; the agreement would allow Afghanistan to scale that up if wanted.
Pakistan has made it clear throughout the past decade that it fears "encirclement" by any strong alliance between India and Afghanistan. Today's agreement allows Karzai to brandish the threat of greater military cooperation with India if cooperation with Pakistan toward peace remains in question.
Despite warm and historically deep ties with Kabul, New Delhi has limited its engagement to development work and kept its boots off Afghan soil. That won't change: India's ambassador to Afghanistan, Gautum Mukhopadhyay, told reporters in New Delhi that with regards to the military training, "we are doing everything here."
What's in the agreement?
The strategic agreement leaves out specifics.
---