US soldiers feel new sense of urgency in Afghanistan war
The prevailing attitude among US soldiers is that while their remaining time on the ground may be limited, they have plenty of time to prepare Afghan forces to adequately replace them.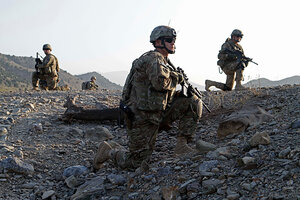 Matt Ford/AP
Paktika Province, Afghanistan
If there's one place in Afghanistan where America's counterinsurgency doctrine appears to be working, it's in a remote corner of Paktika province about 10 miles from the border with Pakistan.
When Gen. David Petraeus took control of US forces in Iraq in 2007 he implemented the doctrine, which relied on separating the insurgency from the civilian population and building infrastructure and local government to prevent militants' return. It was soon adopted by US forces in Afghanistan as well, and some glimmers of success are beginning to emerge.
However, with the 10-year anniversary of the war on Oct. 7 and the troop drawdown already begun, the question may not be whether the US can succeed, but if they have enough time to succeed.
During the past two years, US forces have managed to secure Paktika's Zerok district and begin building up the local government. Now they're just beginning to expand efforts into the neighboring Naka District. Despite nearly daily attacks on US troops in Naka until mid-September, among those tasked with securing it, there's much optimism.
---