After the US pulls out, will CIA rely more on Afghan mercenaries?
Thousands of Afghan mercenaries are believed to be helping America battle Al Qaeda, the Taliban, and their allies. But they're accused of flagrant human rights abuses.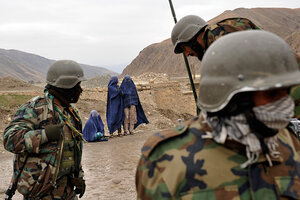 Bela Szandelszky/AP
With his broad cheekbones, hair swept back under a sequined cap, and the gentle manner of a well-to-do Pashtun, Atal Afghanzai might easily pass for a doctor or an engineer.
Instead, his career path led into a cloak-and-dagger world of covert armies and foreign agents, until a rare lethal run-in with an Afghan police chief landed him on death row in Kabul's most notorious prison.
Young and motivated, Mr. Afghanzai is one of thousands of Afghan mercenaries believed to be working with the CIA to help America battle Al Qaeda, the Taliban, and their allies. His story – confirmed by US diplomats, other Western officials, and Afghan authorities – illustrates the military advantages of this secret war. But, with the US poised to ramp up reliance on paramilitaries like Afghanzai as it pulls out frontline troops, the practice is raising the ire of Afghans who accuse the groups of human rights abuses.
Speaking from Pul-i-Charki prison, where he is appealing a murder conviction, Afghanzai described how the elite group he once led, that was raised by and answered to the CIA, launched raids on Taliban targets at a moment's notice.
Recruits were cherry-picked from regular Afghan Army units and trained by US Special Operations Forces at a place called Camp Gecko, he says. Blackhawk helicopters would deliver them to targets in neighboring Zabul and Uruzgan provinces, and Afghan President Hamid Karzai even sent the strike force letters of thanks after successful missions.
---