Pakistan appoints new ambassador to US
Pakistan's civilian government taps Sherry Rehman, a human rights campaigner living under Islamist threats, as the new ambassador to the US. Leaders hope she can soothe strained ties.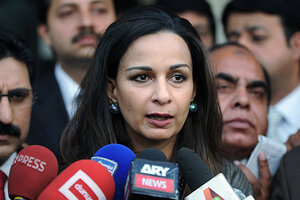 B.K.Bangash/AP
Pakistan has appointed former information minister and long-time human rights campaigner Sherry Rehman as its next ambassador to the United States, following the resignation of Husain Haqqani Tuesday.
The move could help shift some attention away from the scandal over a secret memo allegedly sent to the United States by Mr. Haqqani, which cost him his job and has left the civilian government severely weakened.
Speaking to the Monitor on her new job, Ms. Rehman said: "It's a huge challenge and I look forward to bringing my resources and skills to the job, and I hope we can build better ties in the days ahead. Both countries seek stability in the region and we can build on converging goals."
So far, her appointment has met with approval among Pakistan's political classes. According to opposition lawmaker Ayaz Amir, "It's a good choice. Pakistan has an image problem. A serious problem which someone articulate, sophisticated, and with the right background and poise can deal with."
Rehman, a former magazine editor, became Pakistan's information minister in 2008 following the country's return to democracy. She resigned a year later citing curbs on journalists during a judicial crisis, and in doing so elevated her stock among the Pakistani public.
Her parliamentary work on women's and minorities' rights have helped make her a liberal icon at home. She has also been recognized by US groups, receiving the Jeanne J. Kirkpatrick Award for Women in 2011 and the "Democracy's Hero" award by the International Republican Institute in 2009.
---