Childbirth and maternal health improve in Afghanistan
Women in Afghanistan still face gender violence and have limited legal protection. But small gains in maternal health are critical for rebuilding Afghan society.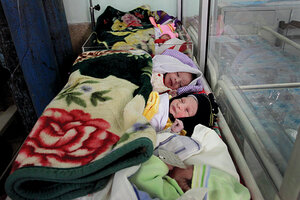 Musadeq Sadeq/AP
Amid increasing focus on the fraught question of what will happen in Afghanistan after the withdrawal of NATO combat forces, a recent survey released by the country's health ministry indicates a significant leap forward for Afghanistan's women.
Save the Children listed Afghanistan in May as the worst country in which to be a mother. But Afghanistan has recently seen a marked improvement in maternal mortality rates. Previously, 1 in 11 mothers died in childbirth. The new survey indicates that the number has dropped to 1 in 50. The number of children who died before the age of 5 also dropped from 1 in 5 to about 1 in 10.
Ending maternal mortality has been a priority among international organizations because a mother's health is seen as a building block for the rest of the family: If a mother is healthy, a family is healthy, the thinking goes.
Considerable time has been spent drawing attention and funding to awareness campaigns and better training for midwives and nurses.
While the numbers show that the effort is having an effect on women in Afghanistan, life for Afghan women has not radically changed. Experts remain cautious in their assessment.
"Now pregnant women have more information about health," says Sima Ayubi, a maternity doctor in Kabul who advocates hospital births. "This mortality rate is still a problem. There's just a decrease. The problem is not completely eliminated or under control."
The survey also found that complications during pregnancy and childbirth were responsible for the deaths of 40 percent of women between ages 15 and 49.
---