Why India pulled the welcome mat for Wal-Mart
Intense protest prompted India to shelve plans this month to allow box stores like Wal-Mart. But many say the retail sector is backward and needs the jobs and investment such stores would bring.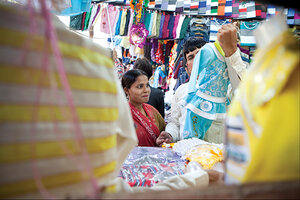 Melanie Stetson Freeman/Staff
The Indian government's recent plans to open the retail sector to foreign big-box stores like Wal-Mart was met with such vehement pushback from people across India that the plans had to be shelved earlier this month.
Unlike in the United States, where more than 80 percent of Americans shop at supermarkets and chain stores, most Indians still shop in kirana, or tiny mom and pop stores. The 15 million small retail outlets here employ tens of millions of people.
While India has welcomed many Western companies under two decades of economic liberalization, the move to megastores has proved to be a tough sell.
The idea of driving long distances on bad roads, battling for a parking spot, and choosing between hundreds of brands perplexes many consumers who say they are happy with the current small-and-local model. But the domestic resistance frustrates Indian technocrats and business elites who are focused on keeping India's growth rates high.
While Wal-Mart worries many shopkeepers, some are banking on customer loyalty and shopping habits to save them.
Rajiv Malik owns a kirana in the alleyway of a middle-class neighborhood in Delhi. His shop, a mini-version of Wal-Mart, offers everything from shampoo and vegetables to underwear and plastic beach balls.
"Over half of my customers buy on credit, and I will deliver anything from a loaf of bread to a few eggs," says Mr. Malik, who keeps track of purchases in a big, yellow notebook. "I don't think that Wal-Mart will be able to provide this kind of service."
---