Pakistan PM Gilani wins key backing in Parliament
Pakistan's Parliament passed a key resolution Monday that backed Prime Minister Yusuf Raza Gilani as he faces pressure from the Army and the Supreme Court.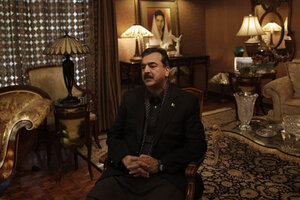 Muhammed Muheisen/AP/File
Pakistan's Parliament passed a key resolution Monday night calling for the country's other state institutions – the Army and Supreme Court – to remain within their constitutional limits.
The resolution is a welcome boost for beleaguered Prime Minister Yusuf Raza Gilani who earlier in the day was charged by the Supreme Court with contempt for failing to reopen old corruption cases against his ally President Asif Ali Zardari. If found guilty, Mr. Gilani faces dismissal and the possibility of jail time.
Gilani described Monday's vote as "a welcome day for democracy," adding that it endorses Parliament's supremacy.
Pakistan's military traditionally enjoys wide latitude in shaping the country's national security policies and has stepped in numerous times – often with the Supreme Court's blessing – to overthrow civilian governments that challenged its authority. The Gilani government has been trying to circumscribe the military's role particularly after the embarrassing discovery of Al Qaeda chief Osama bin Laden in a military garrison town last year. Last week, Pakistan's Army issued a statement criticizing the Prime Minister and promising "grievous consequences," raising fears of another military coup.
---