Afghanistan women: 'Give us a seat at the peace table'
Given the Taliban's history, women say it's critical that they're at the table to make sure concessions aren't made at their expense.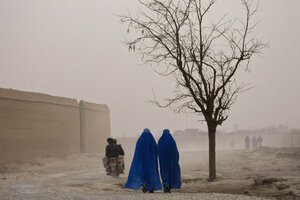 Ahmad Masood/REUTERS
During the past year, the US and its NATO allies have placed increasing emphasis on bringing an end to the war in Afghanistan through negotiations. With the Taliban on the verge of getting a political office in Qatar, substantive talks now appear closer than ever before.
Women have taken on an increasingly active role in Afghan society in recent years – holding elected offices, working outside the house, and sometimes running their own organizations. But many Afghan women see a potential peace deal with the Taliban as representing anything but a ray of hope. Current negotiation efforts have mostly excluded women, and without a voice at the table many women worry how well the Afghan government can protect women's rights if the Taliban is reincorporated into the political system.
As the US and NATO continue to work toward talks, a number of activists argue that if the West was serious about promoting women's rights here, they'd help ensure women a seat at the peace negotiation table.
"The sad part is that the international community's actions do not reflect what they say. It talks about women's rights, but then they don't include them [in peace talks]. Women's involvement should be one of the conditions," says Sima Samar, chairperson for the Afghanistan Independent Human Rights Commission. "The problem here is that it's not only the Afghans, it's the international community that also sees that women are not capable or useful in the negotiations."
---