The PR challenge in Afghanistan: suicide bombing, Quran burning, and murky data
The US and NATO continue to offer relentlessly optimistic reports. But they aren't reversing the erosion of public confidence, and attacks like today's suicide bombing don't help.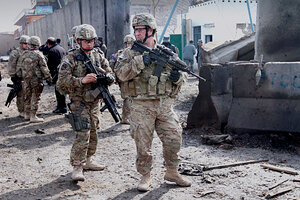 Allauddin Khan/AP
No matter what the week in the 10-year Afghanistan war, the story out of NATO is always the same: relentlessly optimistic.
Case in point is the last week in February, arguably one of the worst blows to the US image in Afghanistan, when the burning of Qurans on a US military base sparked protests that killed 40. Four Americans were among the dead, two of them shot in their offices at the Interior Ministry in Kabul.
Pentagon press secretary George Little acknowledged the challenges, but stressed that the top brass "believe we have achieved significant progress in reversing the Taliban's momentum and in developing the Afghan security forces, and they believe that the fundamentals of our strategy remain sound."
Military leaders' unflinching public optimism is perhaps as old as war itself. With Afghanistan largely ignored in the United States, many of the military's utterances have long gone unquestioned. But the violent protests – continuing today with a suicide bombing outside a US base – underscore declining confidence on both sides and increasing doubt that the war is still worth fighting.
In polls, a majority of Americans want troops removed as soon as possible from Afghanistan, rather than waiting until the situation is stabilized. And more Afghans are beating for the exits: The United Nations reports a 25 percent increase in the number of asylum seekers during 2011.
A key problem in the public relations battle is that the data to support NATO's assertions of progress are either classified, muddy, or subject to varying interpretations. The effort to shape that data is only going to become more pressing as the US prepares for the 2014 withdrawal President Obama has promised and the military seeks to shape the legacy of a war that has cost more than half a trillion dollars.
---