What does Pakistan want from US? An apology, more money, no drones
Pakistan's lawmakers passed a resolution trying to reframe the country's relationship with the US. Whether it gets implemented is another matter.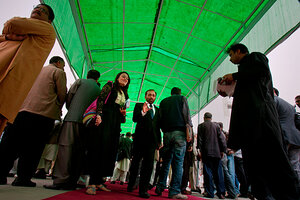 Anjum Naveed/AP
Pakistani lawmakers Tuesday demanded an end to US drone strikes and an unconditional apology for a NATO attack that left 24 Pakistani soldiers dead last November.
The demands were made by a parliamentary commission tasked with framing a debate on the country's future relationship with the US, and reflects deep public resentment at the loss of what most here see as innocent lives.
"The US must review its footprints in Pakistan," said Raza Rabbani, chairman of the parliamentary committee on national security. "This means the cessation of drone strikes inside Pakistan."
But the rhetoric, which could be politically helpful for the ruling Pakistan People's Party, is unlikely to be matched by a major shift in foreign policy because that is controlled by the country's security establishment, say opposition lawmakers and analysts.
"Many resolutions have been passed in previous joint sittings of parliament but a question mark remains on their implementation," said Chaudry Nisar Ali Khan, a senior leader in the opposition Pakistan Muslim League–N party, possibly referring to an October 2008 parliamentary resolution that called for an end to drone attacks.
"Even if approved … the recommendations in this resolution already exist in earlier resolutions. The government should be answerable for the implementation of these resolutions," he added, referring to previous parliamentary resolution against drone attacks.
Pakistan's civilian and military leaders have a history of tacitly endorsed the Predator drone attacks while publicly denouncing them, since they were first used in 2004. Under the Bush administration some 52 drone strikes were carried out, while more than 260 have been carried out under the Obama administration. President Obama publically acknowledged the use of drone attacks in an online video chat with Google Plus users in January.
---