Why India is trying to expand trade with Iran
The creation of Pakistan cut India off from longstanding trade routes to Central Asia and beyond. India sees Iran as a way to reconnect, despite US sanctions.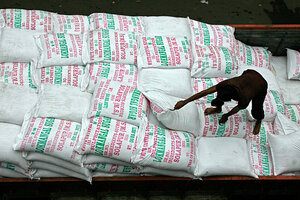 Amit Dave/Reuters/File
As the United States isolates Iran by pushing countries to cut oil purchases and other commerce with the Islamic republic, India is building new trade ties there, saying Iran is its path to building the influence it needs in Central Asia and Afghanistan.
Prior to partition, the Indian subcontinent enjoyed trade and political links with Central Asia and onward into Russia and Europe. The creation of Pakistan cut India's access to the region and India has long eyed Iran as a workaround.
India's government is hosting a 14-nation conference this week to help build a new shipping network, the International North-South Corridor, that will use Iranian ports, highways, and railroads. The project aims to connect India to parts of Europe in half the time required by current trade routes through Egypt's Suez Canal.
The shipping conference comes three weeks after an Indian government-backed trade delegation returned from Iran, announcing new possibilities for trade. And last week, Indian export groups said Iran had made new purchases of animal feed and was looking for wheat, sugar, and tea – all as the US is pushing India to cut back its Iranian ties.
---