Pakistan moves to reopen NATO supply lines, but US ties remain frayed
Parliament outlined how US-Pakistan relations ought to proceed, but gave an unofficial okay to reopening NATO supply lines to Afghanistan.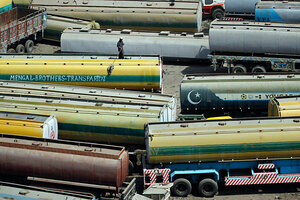 Athar Hussain/Reuters
Pakistan looks set to reopen two key NATO supply routes to Afghanistan, following the unanimous approval last week of a proposal in Parliament for new bilateral relations with the United States.
The legislation outlines how Pakistan should deal with the US and gives a tacit green light to restoring the supply lines that were cut four month ago. The agreement was struck after the government agreed to include opposition party demands, and after weeks of quiet diplomacy between the US and Pakistan.
Despite the diplomatic engagement involving the senior military and civilian leadership from both sides, many believe the future relationship between the two allies in the war on terror will not be fully repaired.
"The Parliament has tried to create a balance between anti-Americanism [among the people] and a pragmatic and rational policy for future Pak-US relations," says Zafar Nawaz Jaspal, an associate professor of International Relations Department at Quaid-i-Azam University in Islamabad.
"[It's] not that the countries do not want to settle back the relations, but it is because of a divergence of interest vis-à-vis Afghanistan," Dr. Jaspal says, referring to reported US plans to include India in future Afghanistan plans, which is not acceptable to Pakistan.
However, he says, the two countries will now have a better relationship than a few months ago after the November NATO airstrike that killed 24 Pakistanis.
---