From Kashmir to California: in the footsteps of a wanted killer
Journalist Zahid Rafiq tells how he tried to reach Avtar Singh, a former Indian military man living outside Fresno with a dark past in Kashmir. On Saturday, Mr. Singh killed his family and himself.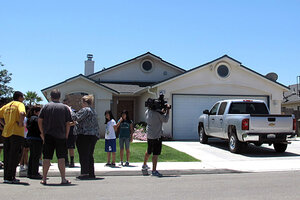 Gosia Wozniacka/AP
Selma, Calif. and Srinagar, Indian-controlled Kashmir
A former Indian Army major placed a call Saturday morning to police outside Fresno, Calif., to inform them that he had murdered four people. By the time police arrived at the nearby scene, Avtar Singh had killed not just his family but himself, too.
Nearly two months prior, Mr. Singh had called the same Selma Country police for the last time to complain against media who wouldn't leave him alone. I was that reporter.
I am a Kashmiri journalist studying at the University of California, Berkeley. Mr. Singh had been discovered last year to be living in Selma, where he ran his own trucking company. I wanted to interview this man, who was notorious back home after a judicial inquiry accused him of murdering a prominent human rights activist.
Like so much from the Kashmir conflict of the 1990s – of my childhood – the case remained unresolved, and the pain of victims left to fester.
After decades of mostly nonviolent resistance to Indian rule, Kashmiri separatists and Pakistani militants rose up with guns in 1989. India cracked down with a massive counterinsurgency that continues today, more than a decade after quashing the armed uprising. Government figures say at least 47,000 people have died in the conflict and thousands remain missing; other estimates are much higher.
Atrocities committed by Indian forces during the conflict have rarely if ever been punished. Singh's was the rare case that made it to court in Kashmir, but he then fled the country. The magistrate put out a warrant over Interpol, and in 2011, Selma police alerted India's Interpol bureau that they had their man.
---