Pakistan's black marketers cheer reopening of NATO supply lines
When Pakistan closed NATO supply routes in November, arms smugglers lost access to one of the easiest sources of materiel.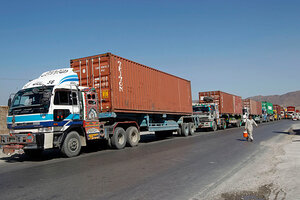 Parwiz/Reuters/File
The reopening of two key NATO supply routes last month not only eased the diplomatic tension between Pakistan and the United States, but benefited a third party as well: Pakistan's black-market businesses.
Pakistan's active black markets, which stretch from the southern port city of Karachi to northwestern Peshawar, and from the southwestern city of Quetta to the northern tribal belt, used to be flooded with US-made goods, from flak jackets to M-4 rifles, soda, and cigarettes. Then, a few months ago, the underground economy, which largely depends on the NATO supply trucks for supplies, dried up. The thousands of Pakistanis who depended on it for income and cheap supplies were hit hard.
"Our business had really gone down [due to closure of NATO supply routes]. But, thank God, things have been settled down, and we are going to reactivate our business," an arms dealer from Quetta told the Monitor.
The arms dealer, who goes by the name "Kaka" (which means "older brother" in Pashtu), says he's seen the prices of US-made weapons and other military equipment shoot up because they've become so difficult to get.
"Not only the M-4 rifle, but prices of other military equipment like communication devices, small pistols, night vision goggles, binoculars, caps, and flak jackets have also gone up," says Kaka whose clientele includes both Taliban and anti-Taliban buyers – both of which prefer US-made equipment. With fewer goods to sell and higher prices for the equipment he does have in stock, there have been fewer buyers, and Kaka says it has been difficult to make ends meet the past few months.
---