Afghanistan: Six killed by insiders, insurgents blow up $180m in jets
Green-on-blue attacks in Afghanistan have killed at least 51 international troops this year.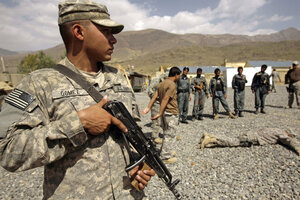 Maya Alleruzzo/AP/File
At least six coalition soldiers were killed in Afghanistan this weekend in two separate incidents where members of the Afghan security forces turned their weapons against international forces.
In Afghanistan's southern Zabul province, four coalition soldiers were reportedly killed by a group of Afghan police who turned their weapons on international troops. The other incident occurred on Saturday and left two British soldiers dead.
News of the latest so-called "green-on-blue" killings adds to what has become a serious and lethal trend confronting international forces here. Such attacks have left at least 51 international troops dead this year alone, a first for the Afghan war.
Although the international military is slated to end its combat mission in Afghanistan in 2014, the green on blue killings and the insurgent infiltration they likely represent, may pose a serious threat for the long-term stability of Afghanistan.
"The issue of green on blue attacks is not only a tragic issue for international forces and Afghan forces right now, but post-2014 this could change into the collapse of one or many of government institutions in various districts and provinces," says Waliullah Rahmani, executive director of the Kabul Center for Strategic Studies. "There might be a risk of many elements of the Taliban and insurgency or people who are loyal to them who spy for these groups inside the Afghan government."
In recent months, the Afghan insurgency seems to be placing increasing reliance on infiltration tactics to carry out attacks against Afghan and international forces.
On Sunday, the International Security Assistance Force in Afghanistan released new details about an attack on Camp Bastion, a major air base in southern Afghanistan's Helmand province.
---