Code Pink joins Pakistani political party in anti-drone protest
Some 30 men and women between the ages of 22 and 80 from the antiwar coalition Code Pink joined forces with Pakistani cricketer-turned-politician Imran Khan and his party.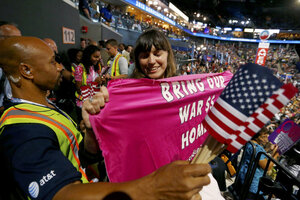 Chris Keane/Reuters
A group of Americans joined thousands of Pakistanis to complete a two-day and 230-mile peace march across the country yesterday to protest America's use of drones in Pakistan's tribal areas.
A party of 30 men and women between the ages of 22 and 80 years old were organized by the American antiwar coalition Code Pink. They joined Pakistani cricketer-turned-politician Imran Khan, and thousands of protesters from his party Pakistan Tehreek-e-Insaaf (PTI).
The two-day march was set to travel from Islamabad to South Waziristan, a region known for American drone attacks, Pakistani Army operations, and Islamist militants. However, the march stopped short of entering the tribal area when the Army turned Mr. Khan and his supporters away. Code Pink turned back even earlier – at Dera Ismail Khan, the last stop before South Waziristan – citing security threats to the delegation.
Though Code Pink was a marginal participant at a largely Pakistani-organized and Pakistani-led protest, its presence was nevertheless used by Khan to highlight Americans who oppose drone strikes and the US government's foreign policy.
"They were older and traveled far to join us. They stood in solidarity with our fight against American drones," said Khan to thousands of protesters cheering him on at a clearing in Tank, close to the border of South Waziristan.
Some criticized Khan's PTI for the march, accusing him of organizing it to garner votes in the upcoming parliamentary election and failing to sufficiently criticize Army operations or Taliban atrocities.
---