Taliban shooting of 14-year old sparks outrage in Pakistan
Hundreds of people took to the streets to show their anti-Islamist sentiment after the Pakistani Taliban took responsibility for shooting a 14-year-old Pakistani girl in the head.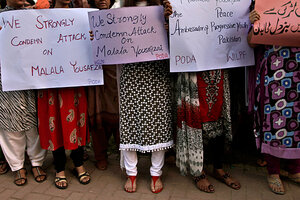 Muhammed Muheisen/AP
Political leaders and media have joined students, activists, and a broad segment of Pakistanis in condemning the Pakistani Taliban for shooting a 14-year-old girl in the head and neck, leaving her in critical condition this week.
The girl, Malala Yousafzai, is a children's rights activist who blogged about life under the Taliban also known as Tehrik-i-Taliban Pakistan (TTP) when it occupied her home district of Swat in 2009. She is known for her media appearances bringing attention to atrocities carried out by the militant group.
The shooting prompted widespread outrage against the Pakistani Taliban and Islamist militancy among ordinary Pakistanis – and some hope that the strong reaction would prompt some type of change. Though officials have offered a 10 million rupee ($105,000) reward for information leading to the arrest of the girl's assailants, human rights activists, however, remain skeptical.
"This is not the first time that extremist militant groups have carried out atrocities. I am pleased to see the strong reaction, but fear that little will change," says I. A. Rehman, the Secretary-General of the Human Rights Commission of Pakistan.
A TTP gunman sought out Malala on a school bus on Tuesday and shot her twice. Two other girls sustained injuries, and one was in critical condition on Wednesday. Malala is now "out of danger," according to surgeons who have successfully removed both bullets.
But Ehsanullah Ehsan, the TTP Spokesman who claimed responsibility for the shooting, says that the militant group would attack her again if she survives.
"She was pro-West, she was speaking against the Taliban and she was calling President Obama her idol," he said in a statement. "She was young but she was promoting Western culture in Pashtun areas." Malala and her father, Ziauddin Yousafzai, have been on a TTP hit list since 2011.
---