What will the Afghanistan war legacy be?
Much of the Soviets' development work got wiped out by a civil war in the 1990s. But the scope of the effort then was limited compared with the work today.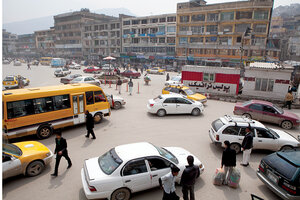 Melanie Stetson Freeman/Staff
There may be two years left on the clock for the war in Afghanistan, but NATO's ability to shape events has largely come to an end, with the fighting at a stalemate, stalled peace negotiations, and incidents of Afghan security forces turning against their international counterparts.
Officials say international war and aid efforts are ongoing, but there are few indications that they will yield different results.
Rather than asking what more the international community can do in Afghanistan, the question may now be, What kind of legacy will the past decade of international influence leave here, and how long can it last?
Since invading Afghanistan in October 2001, the United States has appropriated nearly $100 billion for reconstruction and development there. Despite problems with fraud, corruption, and mismanagement, Afghanistan is a different nation than it was 11 years ago. The investment has created a 352,000-strong Afghan security force and increased access to electricity from 6 percent to 18 percent of the population; 3.2 million girls are now in school, up from fewer than 5,000 during the Taliban regime.
Yet throughout the country there are numerous indicators that many Afghans have little faith in the future. An estimated $8 billion in cash was taken out of the country last year, and property dealers say Afghans have all but stopped buying land, the stalwart investment in this largely agrarian society.
The Soviet example
To better understand the road ahead, a look back at the Soviet experience here may prove instructive.
---