Why Pakistan's release of Taliban might help peace
Pakistan agreed today to release some Taliban leaders from prison, saying the decision was taken 'to support the peace and reconciliation process.'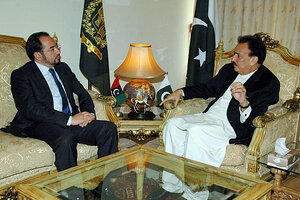 Press Information Department/AP
Pakistan agreed today to release some Taliban leaders from prison in an effort to facilitate peace talks in Afghanistan.
The announcement came during a two day visit to Islamabad by the Afghanistan High Peace Council, a body authorized by Kabul to hold talks with the Taliban. The Peace Council met with Pakistan's president and prime minister – and, crucially, the country's top general – in the first such high-level meetings since the former head of the council was assassinated last year.
Regional analysts have long suspected that Pakistan's security establishment scuttled the Afghan peace process when it rounded up a group of Taliban leaders in 2010. The arrested Taliban included spiritual leader Mullah Omar's right-hand man, Mullah Abdul Ghani Baradar, who had been in quiet negotiations with the Afghan government, possibly behind Pakistan's back. More hard-line leaders opposed to peace appeared to be spared from the roundup, giving rise to suspicions that elements of the Pakistan's military and intelligence community wanted the Taliban to keep fighting.
---