A new party emerges in world's biggest democracy
Supporters of India's new Aam Aadmi Party gathered in New Delhi to cheer on its goal of fighting corruption from the inside.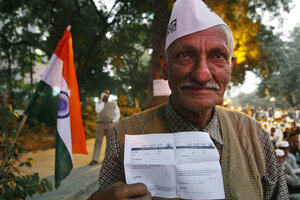 Tsering Topgyal/AP
The world's largest democracy gave birth to a new political party today, this one focused on fighting corruption.
At a public rally in India's capital of New Delhi, supporters all wore white Gandhi caps with 'I am common man' written on them in Hindi. They spoke of the Gandhian slogan of "swaraj," or people's rule. They promised to free India of corruption and provide an alternative to the two main national parties, the centrist Indian National Congress and the right-wing Bhartiya Janata Party.
The public launch Monday of the AAP, or Aam Aadmi Party ("Common Man's Party"), marked a culmination of India's anticorruption movement that began in April 2011. That movement was compared to Occupy Wall Street by some. It was led by the Gandhian social activist Anna Hazare, but spearheaded by Arvind Kejriwal, a tax officer turned freedom of information activist turned anticorruption activist. The new party is Mr. Kejriwal's brainchild.
The Hazare movement had chiefly demanded the creation of a Lokpal or anticorruption ombudsman, amid innumerable corruption scandals that have rocked the ruling Congress-led coalition. But Mr. Kejriwal's decision to turn the movement into a political party earlier this year saw Hazare splitting ways with him.
The AAP – which is also the Hindi word for 'you' – says it will not allow political dynasties to make use of their party, will have women at every level, pass legislation for electoral and judicial reform, curb rising prices, and involve the public directly in policymaking. A statement by the party said it was entering politics because the country's politicians had failed to create an anticorruption ombudsman.
---