Taliban attack on Pakistani airport highlights changed tactics
Ten men from the Pakistani Taliban attacked the international airport in Peshawar last night. Six people were killed after a stand-off between the militants and Pakistani forces.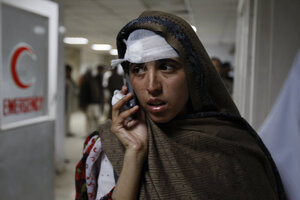 Mohammad Sajjad/AP
Pakistani security forces reestablished control today over one of the country's international airports after Taliban militants stormed the installation, in an attack that highlights the group's recent focus on higher-profile and official targets.
Ten men from the Tehreek-e-Taliban Pakistan (TTP) attacked the airport with automatic weapons, grenades, and mortars late Saturday in Pakistan's northwestern provincial capital of Peshawar. Six people were killed after a six hour stand-off between the militants and Pakistani police and troops.
Even though the airport is used by civilians for local and international travel, it is also used by the Pakistan Air Force (PAF) for operations in Pakistan's tribal belt – making it a strategic target for the TTP. The last major attack on a military air base in Pakistan took place four months ago when insurgents wearing suicide vests stormed Minhas Air Base, a PAF installation in the northern part of Pakistan's largest province, Punjab.
According to security analysts, the attack on Peshawar airport indicates a fundamental shift in militant strategy. According to the Pakistan Institute of Peace Studies, overall terrorist attacks have decreased over the last two years – down by 46 percent in the first half of 2012 compared to 2011. However, according to data collected by the Islamabad-based think tank, Center for Research and Security Studies (CRSS), targeted attacks have increased. Compared to 2011, there has been a 25 percent increase in attacks on the paramilitary and police, and a 17 percent increase in attacks on prominent personalities this year.
"This attack is a sign that militants have changed their tactics. Rather than attacking the common man, which entails greater condemnation, they have now started attacking the people or institutions that are supposed to protect the people," says Imtiaz Gul, the executive director of the CRSS.
---