Pakistan textbooks raise debate about 'curriculum of hate'
Government-sanctioned textbooks across Pakistan contain numerous examples of anti-minority and anti-Western language, prompting activists to encourage teachers to stop using them.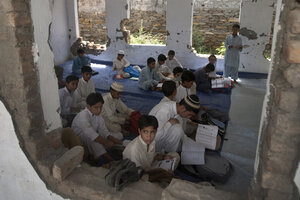 Faisal Mahmood/REUTERS/File
In a public school located just outside the capital, a classroom of ninth-graders follows quietly along in their history textbooks as their teacher reads out loud about what happened shortly after the creation of Pakistan in 1947:
"Caravans that were on the way to Pakistan were attacked by Hindus and Sikhs. Not a single Muslim was left alive in trains coming to Pakistan."
As the magnitude of the sentence registers with the students, the phrase "No Muslim was left alive!" echoes around the classroom from whispered lips. Students are clearly engaged with the subject and clearly disturbed with what history they have just learned.
The only problem? That description in the students' books is highly misleading.
Though the partition of India and Pakistan in 1947 was indeed one of massive violence, Mubarak Ali, who has written several books on India-Pakistan history, says this is a one-sided account of events and an exaggerated version of the truth. In fact, it was the Pakistani side where the communal riots started, and in reaction, Indians responded, he says, adding: "But very few trains were attacked. And many more made it alive, which is not taught."
Dr. Ali says that such content should be expunged from school books, much as India has managed to do.
"Instead of teaching Pakistani youth that Hindus from India are to be blamed for everything, textbooks should critically look at this communal violence, which can actually be traced to the way both Muslims and Hindus responded to British imperialism before the independence. We should not glorify this division but rather criticize it, because Muslims and Hindus coexisted peacefully for centuries before," he says.
Across Pakistan, government-sanctioned school textbooks contain blatantly anti-religious-minority, anti-Western material. And many are worried the curriculum is fueling intolerance, especially among youths – leading to violent behavior and even sympathy for the Taliban.
---