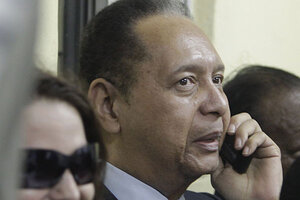 Dieu Nalio Chery/AP
Within days of the people of Tunisia rising up in fury at the corruption of their president and the vicious police state he used against him, Jean Claude "Baby Doc" Duvalier, whose picture might as well be next to dictionary definition of "police state," returned home to Haiti after 24 years in exile?
Duvalier went into exile just 11 months before Tunisian President Zine El Abidine Ben Ali came to power in a putsch against Tunisia's founding President Habib Bourguiba. Both men had opponents whisked away from their homes in the middle of night and tortured, with Ben Ali's Mukhabarat mirroring Baby Doc's Tonton Macoute (though without the voodoo excesses).
Duvalier, like Ben Ali, was driven out of his country by a public protests and riots fueled by anger at bad economic conditions, the corruption of the first family, and the use of the security services to grind down all dissent and public complaint. Both ruled former French colonial possessions.
---